The Best of Two Worlds... City and Country Living
Indulge in the sophistication of city life, the peace and quiet of pastoral settings, the exhilaration of natural mountain hikes or powdered ski slopes.
Absorb the beauty of berry and flower fields, dairy , llama and produce farms while driving or cycling along our many paved rural roads criss-crossing the valley.
Schuss down snowy slopes, ski cross country... or hike and bike through alpine meadows during balmy seasons.
Centennial Park - Mill Lake - Nature trails, fitness track, picnic area, outdoor swimming pool, playground equipment, trout fishing, wildfowl refuge. Open to small rowboats and canoes. Adjacent to two major shopping centres and a short walk to Ravine Park. A beautiful boardwalk winds around to the Kariton Gallery, MSA Museum and Trethewey House. Majestic view of Mt. Baker. The photos shown on this page are taken at Mill Lake.
Enjoy our world famous Abby Airshow each August. Visit
www.abbotsfordairshow.com
for more information on the Abbotsford Airshow.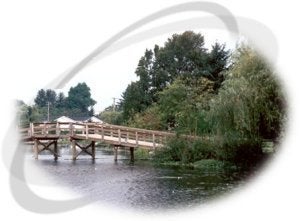 Splash, exercise or skate at our award winning recreation facilities. Golf, ride, play ball, jog or meander through more then 125 parks and 3 golf courses.
Check into full service hotel accommodations or charming bed and breakfast houses, or camp at our first-class camping and RV sites.
Dine or snack at an impressive selection of casual eateries, coffee and dessert cafes, ethnic, eclectic and elegant dining restaurants.
Shop and browse at our modern, air conditioned malls which house major department stores, at unique craft and fashion boutiques or precious antique shops, nestled in our many shopping plazas.
Located on Abbotsford Airport property, Tradex, the Fraser Valley Exhibition Centre, is a 120,000 sq.ft. (10,800 sq.m) facility, which hosts a number of events including home and car shows. Find out about the upcoming Winter Antique Expo at
www.antiqueshowscanada.com/abbotsford_winter.htm
.